The seeds for First Presbyterian Church were planted by a group of visionary Protestants who were gathering for worship in a school house and in private homes. In 1934, those Protestant pioneers took a leap of faith. With help and financial assistance from members of the community and with donations from summer visitors, property was purchased on the southeast corner of Beal and First Streets. It was there that they built the non-denominational Grace Community Chapel, where the Salvation Army is located today. Services were held regularly and were shared by the participating denominations.
The Presbyterians yearned for a home of their own. On March 20, 1942, a commission appointed by the Presbytery of Florida met at the chapel to organize a Presbyterian Church in Fort Walton. At first the new church leased the chapel. A rapid growth in membership called for more space. In 1953, First Presbyterian bought the Chapel property and began remodeling and expansion.
The church worshiped in the remodeled facilities from 1953-1964. However, a need for more space resulted in property being bought on the northwest corner of Beal Parkway and First Streets (current location). Ground was broken for a new building in December 1964. The new Fellowship Hall and Education Building was dedicated in September, 1965. The church used this facility as an all-purpose building for several years.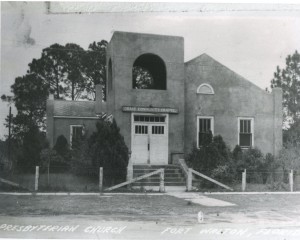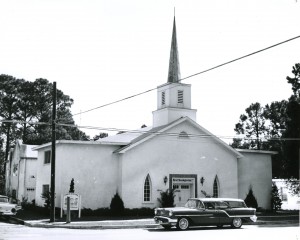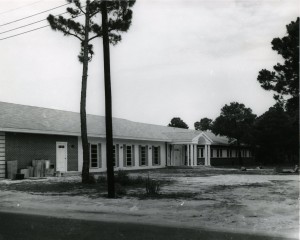 On March 20, 1977, the ground was broken for a beautiful new Sanctuary. This Sanctuary, together with the Fellowship Hall/Education Building continues to serve the congregation today.
In 2002, an additional multi-purpose building, Holbrook Hall, was dedicated. It houses a musical department, a youth center and a conference room. In addition, a beautiful columbarium was added. The office complex was moved to Rigdon Hall, and the educational building and nursery facilities were remodeled to be more functional.
The church has greatly benefited from the pastoral leadership of fourteen ministers since its beginning. Reverend Sharon A. Schuler has been serving as Pastor since November 2011. First Presbyterian has always been a caring church. Its doors have been opened to the community from the beginning. Many community groups enjoy the use of the facilities. Its mission and ministry has a strong impact on the community and the world.
As a connected, Reformed Protestant church, it is a member of the Presbytery of Florida, the Synod of the South Atlantic and the Presbyterian Church (U.S.A.).