Easter Sunday (04/21/2019): Church members decorated cross with fresh flowers. Trinity Nicks and Kyla Brister were confirmed as full Church members.
Overview
The Worship Committee meets the 3rd Tuesday of each month
The Worship Committee is involved in the Worship Service that includes: A Liturgist, music, Communion Service, flowers, Ushers, and Worship supplies
With the Pastor(s) lead the church in planning and providing for all services of worship
Maintain proper adornment of the sanctuary
Provide for appropriate celebration of the Lord's Supper and Baptism
Supervise the Music program in consultation with the Music/Choir Director(s)
Outreach to visitors and prospective members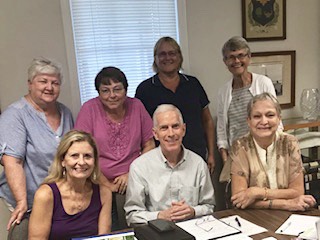 2021 Worship Ministry Team
Marlene Naylor
Beth Crawley
Barbara Blackburn
Pat Hansen
Phyllis March
Theresa Nicks
Jackie Hails (ex-officio)
Bold Italicized: Chair
Bold: Current Officers
Pastor serves on all ministry teams, ex-officio
Join us for Worship every Sunday at 10:00 a.m.. We also have special services on Christmas Eve, Ash Wednesday, and Maundy Thursday. All of these services include Scripture readings, honoring and praising God through prayer and music, education, insightful sermons, and fellowship with others. The Sacrament of Holy Communion is open to all, and served on the first Sunday of the month.
Our choir leads us in worship with inspirational works ranging from contemporary pieces to classics from the early history of the reformed church. They are often supplemented by the handbell choir, other instrumentalists, and vocal soloists.
Come as You Are
There is no dress code at First Presbyterian Church of Fort Walton Beach! Every Sunday you'll find some folks in jeans and Hawaiian shirts and others in ties or dresses. We welcome you to dress comfortably and be yourself. No matter how you are dressed, you will be welcomed here!
Worship Hours
Sunday School – 8:45 a.m.
Worship – 10:00 a.m.
Coffee, Refreshments, & Fellowship
Be sure to join us for coffee and light refreshments in the Fellowship Hall after each service.
Current Sermon
8 March 2020
Instant Gratification
Genesis 12: 1-4a
Psalm 130: 1-8